July 09, 2012
Dear, sweet stubborn grandmother!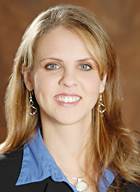 Shelly Mesure, MS, OTR/L
I love my grandma dearly. I must have some good genes, because Grandma is still going strong, living independently in a ranch-style house and has a more active social life than I do.
Her stubbornness may be the reason she lives such full and active lifestyle, but it's also a trait that almost cost her big-time when she had a "health scare" a few years ago.
My wonderful and caring grandmother was hospitalized for about a week. At the time, she was living alone in a two-story home located at least a four-hour drive from her family. At the end of her hospital stay, the doctor, the interdisciplinary team at the hospital and I all strongly recommended some short-term rehab.
Poor Grandma was very deconditioned from her "health scare" and the week she spent in the hospital. She received limited therapy while at the hospital and despite our best efforts, insisted on going directly home — alone! She refused to come stay with us because she didn't want to be four hours away from her doctors. So, she had various friends come spend the night, but she struggled with the stairs and ended up spending a week sleeping in her favorite chair.
When she went to see her doctor, approximately two weeks after her hospital discharge date, he was shocked to see her condition. It was finally at this point that the doctor convinced my grandmother to admit herself into a skilled nursing facility for short-term rehab. My grandmother returned home with her friend, packed her suitcase, and off she went to the nursing facility of her choice. This is already a very involved story for my grandmother, but to us the clinicians at the SNF, this is where we think the story begins.
I like sharing this story because many times we forget that the patients we are treating haven't been home in weeks or months because of their time at the hospital. Or, even if they could stop home, pack a suitcase, and bring their personal belongings, it still might be several more weeks or months before they return home again. This fact has always stuck with me, so I caution therapists and assistants not to lose sight of the big picture.
When we talk about quality of care, compassionate caregiving, clinical excellence — what exactly do we mean? I'm not suggesting we should shorten length-of-stay if it's clinically appropriate; but I am suggesting we should be respectful in our discussions and discharge planning and that we should be mindful of the patient's perspective. Empathy at its best: "Put yourself in their shoes."
Well, my grandmother went through four weeks of rehab and made a full recovery. She has since downsized her home from a two-story, five-bedroom house to a one-story, three-bedroom home in the same neighborhood. She has kept her health in great shape and continues to demonstrate a fabulous way to live.
Shelly Mesure ("Measure"), MS, OTR/L, is the senior vice president of Orchestrall Rehab Solutions and owner of A Mesured Solution Inc., a rehabilitation management consultancy with clients nationwide. A former corporate and program director for major long-term care providers, she is a much sought after speaker and writer on therapy and reimbursement issues.