February 17, 2011
A reason to hide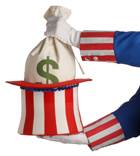 A reason to hide

Given recent flaps about hospice care in nursing homes, one has to wonder if long-term care providers are always going to be subjected to the "one step forward, one step back" syndrome.

Therapy providers are a most obvious recent example. How else to explain the imposition of Medicare Part B therapy caps? The new rules dictating solo, group and concurrent therapy rates? The very existence of the Multiple Procedure Payment Reduction?

In the private sector, if you create a successful product or service, you can bet imitators will unveil a remarkably similar mousetrap. In long-term care, it's assumed that if you are doing well or making a change, it must be so you can cheat taxpayers. Maybe you just have to be resigned to second-class status when Uncle Sam is your biggest patron. Especially since he has so many other potential recipients to consider.

But if that's the case, then your next question has to be: How can we quietly make a good living in this business so no one comes looking to take a rib out of us yet again when we achieve success?