Top News Story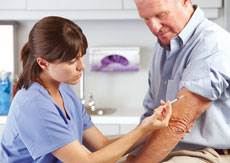 Flu vaccines with four times the strength of a regular flu shot may help decrease the rate of flu-related hospitalizations in nursing homes, according to a new study.
More News
Quote of the Day
"

The recent wave of seniors taking to social media, and the potential growth that is to come, should be a sign for those trying to capture the attention of an older demographic.

"
Daily Editors' Notes

Blog round up
Marketplace Experts

Featured CE

Among the many issues clinicians face today, staying current with advances in medicine is becoming a major challenge. Teaching Brief® articles will allow clinicians to stay up-to-date and assimilate new information into their daily practice. The content of these Teaching Brief® articles has been validated through an independent expert peer review process.