Top News Story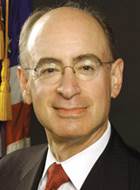 The Office of Inspector General released its Fiscal Year 2015 Mid-Year Update this week, and it includes several initiatives important to long-term care operators.
More News
Quote of the Day
"

It's perfectly normal to be outraged about ridiculous new rules. It's quite another to fight changes that are long overdue.

"
Daily Editors' Notes
Blog round up
Marketplace Experts

Question of the Month:
"What long-term care figure, living or dead, would you like to meet, and why?"
Send your answer to Senior Editor Elizabeth Newman at elizabeth.newman@mcknights.com. Please include your name, title, name of your workplace and its location. When possible, please include a picture of yourself. Your answer may appear in McKnight's Long-Term Care News.
Featured CE

The elderly brain is more vulnerable to the adverse effects of surgery and anesthesia compared with the younger brain. Both anecdotally and in clinical investigation, the elderly surgical population has been found to exhibit a significantly higher prevalence of postoperative cognitive decline. The most common manifestations of this decline are postoperative delirium (POD) and postoperative cognitive dysfunction (POCD).
Don't miss any McKnight's news