Top News

Kindred Healthcare on Wednesday sued Health and Human Services Secretary Alex Azar for more than $10.1 million in lost reimbursements, saying a previous decision penalizes some of the company's long-term care hospitals and a skilled nursing facility for not joining certain states' Medicaid programs.
Quote of the Day
"

Providers and other stakeholders must feel like school children sitting in the principal's outer office, anxiously — if not eagerly — awaiting their fate.

"
The Brighter Side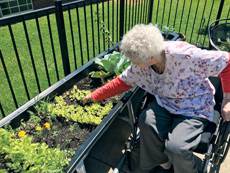 About 15 residents of Liberty Care and Rehabilitation in rural Casey County, Kentucky, have been busy prepping their two-year-old garden since early February, lettuce leaves and broccoli stalks already emerging from the soil by the first day of spring.
Daily Editors' Notes