Top News
A healthcare provider in Owosso, MI, violated federal law by rescinding a job offer to a transcriptionist who wanted a religious accommodation to avoid a flu shot, the EEOC said in a lawsuit this week.
Quote of the Day
"

Often the better relationships — in terms of quality — are the ones that make us feel a bit uncomfortable and cause us to evaluate the care we provide and outcomes we achieve.

"
The Brighter Side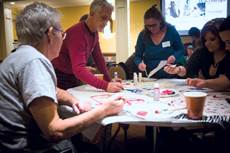 More than a dozen Signature Healthcare employees spent two days playing in Louisville last month, looking for new ways to turn some of their rural nursing homes into community centers for the arts.
Daily Editors' Notes

Marketplace Experts