Top News
Despite falling occupancy and mounting Medicare payment pressures, a national consulting firm says some providers are poised to benefit from the changing industry by 2020.
Quote of the Day
"

If this field had a mantra, it would be: We'll find a way, no matter what.

"
The Brighter Side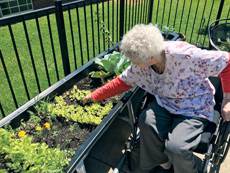 About 15 residents of Liberty Care and Rehabilitation in rural Casey County, Kentucky, have been busy prepping their two-year-old garden since early February, lettuce leaves and broccoli stalks already emerging from the soil by the first day of spring.
Daily Editors' Notes

Marketplace Experts