Top News Story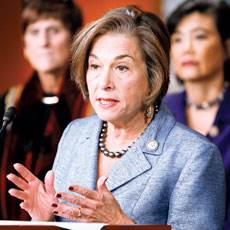 Long-term care providers could have good reason to worry that forthcoming Medicare reforms could cut into their reimbursements, following a two-day hearing on Capitol Hill. Lawmakers reiterated pledges to permanently change the way physician payment rates are calculated. They also emphasized that provider reimbursement cuts and beneficiary cost-sharing might very well be needed due to the price-tag on the policy shift.
More News
Quote of the Day
"

Would you work for the pay and hours you're offering your frontline staff?

"
Daily Editors' Notes
Blog round up
Marketplace Experts

Question of the Month
"What is your favorite place in the building where you work, and why?"
Send your answer to Staff Writer Tim Mullaney at tim.mullaney@mcknights.com. Please include your name, title, name of your workplace and its location. When possible, please include a picture of yourself. Your answer may appear in McKnight's Long-Term Care News.
Featured CE

The critical importance of weight management and smoking cessation in OSA treatment are emphasized, and the roles of other health behaviors, oral appliances, and pharmacologic and surgical treatments in OSA are addressed.
Don't miss any McKnight's news