June 17, 2011
Care transitions becoming more crucial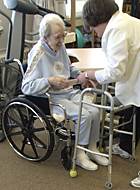 MedPAC recommends reforming Medicare payment system for skilled nursing facilities

It seems the Hebrew Rehabilitation Center in Boston ought to be getting a lot more attention from its peers. The center has successfully implemented a multi-pronged approach to lower rehospitalizations.

This is vital because the federal government is getting a bit more testy about paying for rehospitalizations, particularly when it feels it's for something unnecessary.

So what does this mean for LTC and other rehab providers? Not much — if you don't think increased pressure to get it right the first time (or simply clean up after other providers' inadequacies) isn't much, that is.

Hospitals are going to be feeling the heat, so by simple laws of conduction, that means you also will be headed for warmer times. Friction will do that. Hospital-nursing facility communications traditionally have not been great, and that relationship is going to be tested more than ever.

You're going to have to keep a closer eye on the condition of residents/patients you receive while also better documenting your charges' condition on the way out. And, of course, it would be optimal to provide supremely efficient care in the meantime.

To ensure you have enough time to do that, providers must continue pushing back against any kind of effort to retrench on Medicare or other rehab reimbursement rates.

Doing more with less might be an easy copout for bureaucrats, but it doesn't do much for the frontline caregiver who is trying to keep her ever-older, sicker clients off the "do-over" list back at the hospital.