April 24, 2017
We all benefit when those with dementia speak up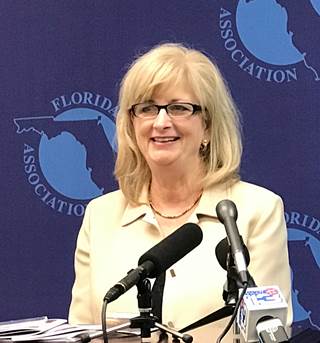 We all benefit when those with dementia speak up
Long-term care providers know that those who live with dementia face unique challenges. Dementia has no boundaries: It affects individuals of all education, income, gender, and ethnicity. Besides the individual, dementia impacts the entire family.
Because most people in America do not understand dementia symptoms, they often diminish a person with the condition, albeit unintentionally. Often, for instance, people living with early to moderate symptoms of dementia are treated as if they have very advanced symptoms and cannot follow conversations or do things for themselves. This lack of understanding contributes to further disabling people living with dementia. There is serious fear about dementia and misunderstandings greatly reduce opportunities for individuals with dementia to continue to experience purpose, value, enjoyment and inclusion in their daily lives.
The industry benefits when those with dementia speak up. Laurie Scherrer was diagnosed with dementia four years ago at the age of 55. She recently gave a talk and likened herself to a Christmas tree with many colorful bulbs burning bright. While some of her bulbs are out, it doesn't lessen the beauty of her colorfully bright tree. Brian LeBlanc, diagnosed with Alzheimer's disease three years ago at age 54, describes becoming very depressed after learning his diagnosis. He woke up one day and realized that his pity party was a party of one and no fun. Brian thought about his wife, the love of his life, and two children and decided he still had a lot of life to live. He now focuses his life on helping others and making a difference. His blog tagline is "I have Alzheimer's but it doesn't have me."
There are many people like Laurie and Brian around the U.S. who are publicly speaking with courage and humor about what it is like to live with the long-term, progressive condition of dementia. They are teaching that the cognitive challenges they face daily do not diminish the fact that they are each unique, purposeful, valuable and caring. individuals. These first-person narratives are powerful antidotes for us to combat misperceptions about living with dementia many people, including professionals, have.
The Dementia Action Alliance, a nonprofit national organization, is committed to educating a society where dementia symptoms are better understood and accommodated as a disability, and individuals and families living with dementia are fully included in matters affecting them and supported.
The DAA has partnered with colleagues in Canada to launch an annual conference, Re-Imagine Life with Dementia, to bring together the diverse dementia community including the Laurie's and Brian's and many others living with dementia, care partners, service providers, healthcare practitioners, advocates, technology innovators, and community organizers among others for needed collective conversations and discussions to advance change. The conference will alternate years being held in the U.S. and Canada. The 2017 conference is being held in Atlanta, GA from June 25 to 27.
The 2017 Re-Imagine Life with Dementia conference will exhibit the international traveling Dementia Creative Arts Exhibition that features artwork from people living with dementia and care partners from England and the U.S. The Exhibition was created by David Reid, a Senior University Teacher of Nursing at the University of Sheffield, England in 2009. David realized the powerful nature of using creative arts for individuals with dementia to express themselves and continue to experience purpose and value in their lives. John Wood, a visual artist living with dementia in Detroit, was inspired by the Exhibition and expanded it to include artwork from people in the U.S. "Our goal for the exhibition is to be inclusive to all persons involved in a dementia diagnosis. Hopefully the artworks can remove the stigma related to lives affected by dementia."
One of the artworks displayed will be a mix media piece created by Terry Berry who was diagnosed with dementia in 2011 at the age of 56. Terry was stimulated to create the artwork after seeing the anonymous saying, "Just when the caterpillar thought its world was over…it became a butterfly."
She thought the saying described her situation living with dementia. When Terry learned she had dementia she thought her world was over. She learned life isn't over, but different - just like the caterpillar.
Karen Love is the executive director of the Dementia Action Alliance.