March 29, 2016
March Gladness

Emily Mongan
I'm not very good at keeping up with sports. I enjoy watching them, but knowing teams' stats and standings has just never clicked with me.
Here at McKnight's we have a blind-draw March Madness contest going, where each employee was randomly given a few college playoff basketball teams on a giant NCAA bracket taped to our office fridge. Frankly, I didn't keep track of how my teams were doing, beyond seeing which ones had been scribbled off my list when I go to fill my water bottle in the morning.
The college basketball gods were not smiling down on me this season, because going into the Sweet Sixteen I had only one hope of winning our friendly office competition for team champion: Wisconsin. It's my home state's flagship team, one that seemed to be doing well and was known for giving the world this adorable viral video.
If you are one of those people keeping track of this year's March Madness, you'll know that my dreams were crushed Friday night. Wisconsin lost to Notre Dame after what had been a close game, with Wisconsin often in the lead, until the last few moments.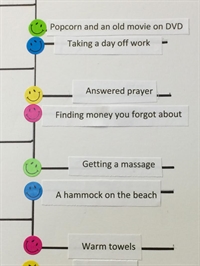 If your bracket is busted, or you just don't enjoy sports as much as the rest of the country, maybe it's time to consider a new competition-based March tradition, one that might bring some happiness into your life instead of the disappointment and anger typically felt when one's chosen team loses.
Enter March Gladness, the brainchild of Fred Pitzl, MA, NHA, the administrator of Good Samaritan Society-Fort Collins Village in Fort Collins, CO. Fred and a "selection committee" of other facility employees rounded up a list full of things that make people happy, and set them up on a large smiley-face filled bracket.
The "teams" in the March Gladness competition include taking a day off of work, finding money you forgot about, warm towels and walking barefoot in the grass. Each day, residents, employees and visitors vote in a showdown between two of the items.
At the end, one happy feeling or event will be left standing. But there really is no winner. The main prize of March Gladness isn't a trophy, Pitzl told McKnight's. It's the conversation the activity sparked among residents and employees of Fort Collins Village on the simple things that make them happy.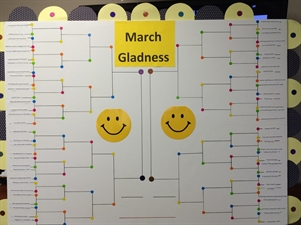 Conversation is especially important today, Pitzl says, in a time when there's an abundance of negativity out in the world. So whatever ends up "winning" March Gladness, there will be no busted brackets, no yelling at the TV and no sulking.
There will, however, be people talking about what makes them happy, and maybe even a chance for the facility to take those things into account when planning activities for the residents. And to me, even as someone who isn't the keenest sports fan, that arrangement sounds like a slam dunk.
Emily Mongan is Staff Writer at McKnight's. Follow her @emmongan.