September 06, 2017
Harvey response brings heartfelt tugs from all of LTC

Elizabeth Newman
Amid the massive amount of tragic news related to Hurricane Harvey, there also have been many ways long-term care stakeholders have risen to the challenge.
We've previously documented several examples of providers offering each other extreme help or evacuating with the assistance of others. There have been incredible efforts by providers, as well as volunteers and suppliers who enable them to take care of those in their care.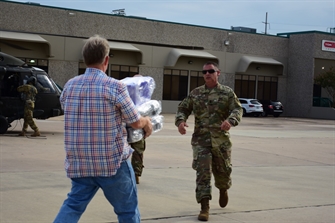 Executives with long-term care pharmacy giant PharMerica discussed with me last week how they initiated disaster emergency planning three days before the storm hit. Prescriptions were filled in advance and and nursing homes were stocked with medications for residents. The long-term care pharmacy vendor services 61 facilities in the greater Houston-Beaumont area, encompassing 5,000 skilled nursing, assisted living and group home residents.
Given the high average number of meds long-term care residents take, that's a LOT of ground to cover.
PharMerica's Houston center did not lose power or flood, but the company did evacuate employees Saturday (Aug. 26) for their safety, said T.J. Griffin, R.Ph, the company's chief pharmacy officer. While many were trapped due to flooding, no employees were injured or had a full loss of their homes, he added. However, PharMerica's partner logistic company and its delivery drivers all sustained losses, with most of the affected employees reporting flooded homes. One was hospitalized after an accident while on the job but doing well, Griffin reported.
Even though the company's San Antonio center and other pharmacies filled prescriptions on Houston's behalf, Griffin said it still became impossible to access certain facilities. Harvey was unlike previous storms, he emphasized.
"In Katrina, our pharmacy was flooded up to six feet. I was involved in Hurricane Charley and Wilma. This situation is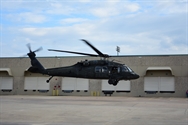 much different because those storms blew in and out," he said. "Here we have cities that are islands. That's why we reached out to the National Guard Air Team."
In one instance, with the help of the National Guard, PharMerica was able to deliver medication to a critical patient who needed IV medications last week. It's also made emergency deliveries in other areas, he said.
"It's the first time we've had to find helicopters," Griffin said.
All involved have been well aware that nursing homes could face huge costs to repair structural damage. And any time you have to moved masses of elderly patients, the ripple effects are felt for a long time.
"To evacuate is a serious business. We were doing everything we could to provide service," Senior Vice President of Purchasing & Trade Relations Bob McKay explained. "Everyone is waiting for water to go down and we can go to near normal operations."
The focus should remain on frontline caregivers, Griffin said.
"The stress and organization on us is nothing compared to the nurses and CNAs. We're here to service them," he noted.
Other companies, of course, also put their emergency planning to the test to continue vital service to southern Texas customers.
Medline, for example, noted it has distribution centers with back-up generators and back-up satellite communications, as well as mobile generators and mobile satellite communication trailers. (Full disclosure: PharMerica and Medline are McKnight's advertisers) Medline's Katy, TX, distribution center, one of two the company has in Texas, has maintained power and remained dry, despite the devastation Harvey wreaked around it, officials reported.
The company provided lodging near its distribution center for displaced employees and families, leaders added and pivoted on other emergency plans for its workers.
It's all a good reminder that natural disasters such as Hurricane Harvey continually force all kinds of long-term care stakeholders into a state of emergency preparedness. Meanwhile, long-term care provider organizations have also made notable strides to help their members and fellow caregivers. LeadingAge has, for example, has set up a relief fund to help Harvey victims while Argentum said Tuesday it would donate up to $50,000 in Harvey relief efforts.
Large provider chains have offered goods, services, funding or all of the above to help their peers in storm-ravaged areas. Not to be outdone, individual nursing homes also have undertaken efforts to help, sometimes quite creatively.
Palisade Living Center in Palisade, CO, for example, set up a dunk tank at a local farmer's market and charged $5 to raise money for its five sister facilities in the Houston area. It also offered a pie-in-the-face option for those who needed a closer target.
Many other efforts exist, some of which we'll never hear about publicly if history is any indicator. If your facility is chipping in to help - or has plans to aid facilities prepping for Hurricane Irma this week - make sure to let us know. In an era of a lot of bad news, it's worth remembering how this industry is filled with people with good hearts and able hands.
Follow Senior Editor Elizabeth Newman @TigerELN.