November 20, 2009
A date with C-SPAN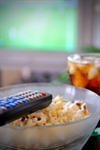 I guess I know what I'll be doing Saturday night—pretty much what I did two Saturday nights ago. Channel surfing. I'll be watching to see if Congress acts on its healthcare reform legislation.
It was another Saturday night earlier this month, as you may remember, that the House passed its monster of a legislative bill. Senators will be nervously milling around the floor tomorrow debating prior to the evening vote. (I can just picture their House colleagues kicking back in their living rooms with buckets of popcorn, relieved to know that they have the night off.)
Tomorrow's action will be both more and less dramatic than the House event. The move, which is scheduled for 8 p.m. (ah, the night is still young!), seems insignificant. It is a procedural vote to allow senators to begin debate on the bill. (In other words, it's a vote to argue to vote). But the Senate has always been seen as the potential waterloo of healthcare reform. Senate Majority Leader Harry Reid reportedly has been working vigorously to round up the 60 crucial votes. If Democrats can pass this first test, it would be cause for them to celebrate.
Regardless of what happens, it seems like a cruel joke to play to keep interested people like me chained to their couches on the most festive night of the week. Then again, maybe our lawmakers are doing it on purpose. There's really not much going on in TV land on Saturday anyway.