December 09, 2014
Currow joins Dartmouth-Hitchcock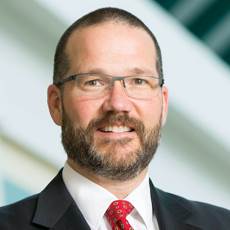 Dr Currow
David Currow, B Med, MPH, FRACP, will be the new director of Palliative Medicine and Hospice Care at Dartmouth-Hitchcock, starting in January.
He will lead the new Center for Palliative and Hospice Care, which will be designed to provide interdisciplinary patient- and family-centered care, Dartmouth-Hitchcock said.
Currow is a renowned author and educator, and will partner with Sharona Sachs, M.D., the section chief in palliative medicine. The former section chief was Ira Byock, M.D.
Currow is currently a professor of Palliative and Supportive Services at Flinders University in Australia, where he is also the chief cancer officer in the state of New South Wales and chief executive officer of the state's cancer control agency, the Cancer Institute, New South Wales. He is a principal investigator for the Palliative Care Clinical Studies Collaborative. He is senior associate editor of the Journal of Palliative Medicine.