February 16, 2016
These residents won the Super Bowl

Emily Mongan
If you watched this year's Super Bowl game between the Carolina Panthers and the Denver Broncos, you know the Broncos took home the title (although I would argue that Beyonce was the real winner).
But at Gastonia Care and Rehabilitation in Gastonia, NC, the game had a slightly different outcome. The Signature Healthcare facility, located about a half-hour drive from Charlotte, celebrated Super Bowl 50 in style with a huge party and a unique way to get its residents involved in the big day: a Wheelchair Super Bowl.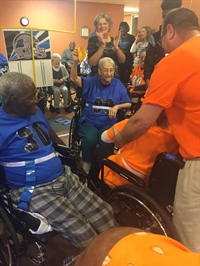 Gastonia's Wheelchair Super Bowl had all the trimmings of a typical NFL game, minus the damaging hits and Nationwide endorsements for players. There were goalposts, custom jerseys, MVPs, cheerleaders and signature endzone celebration dances.
The game was played flag football-style of course, not tackle, as Gastonia's mission is to improve their residents' quality of life. Some residents propelled themselves, while others had a little help from family or staff.
The hardest part of pulling off their own Super Bowl was arranging the five-person teams, since "everyone wanted to be on the Panthers," Administrator Tanya Rocquemore, RN, MHA, LNHA, told McKnight's.
"We just kind of went around and asked which [residents] wanted to participate, and they were really eager," she explained.
The Broncos roster was, naturally, a little harder to fill than the Panthers'. Two Gastonia residents were actually Broncos fans, while the other three had to be "drafted by default," Rocquemore said.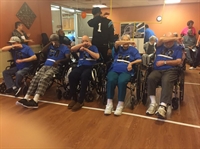 Because a Super Bowl-worthy team is nothing without a star quarterback, the Wheelchair Bowl had a little help from Peyton Manning and Cam Newton — sort of.
Rocquemore's son Jaylen, the quarterback for the local high school's varsity football team, donned a Cam Newton jersey and led the Gastonia Panthers in Newton's signature touchdown celebration dance, "the dab." Many of the residents had seen the dance done on TV, but Rocquemore provided instruction for the uninitiated. (It's a lot like using your elbow to corral a cough or a sneeze, just with a little more flair.)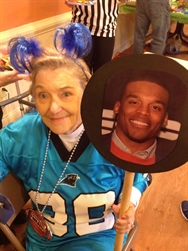 Gastonia Plant Ops Director Bob Blattau stepped in as Manning, with a photo of the Broncos quarterback taped to his shirt (no word on whether he sang about chicken parm).
In the end, the Panthers beat the Broncos 21-13, which Rocquemore took to be a good sign since the Wheelchair Super Bowl took place a few hours before the actual game.
"We thought it would be good luck for the [Panthers]," Rocquemore said.
While that didn't turn out to be the case, Rocquemore said the game was such a success among residents and families that the facility is considering making it a monthly event.
"This was one of the most touching experiences of my 21 years in LTC," she said.
While it can't be celebrated triumphantly like the Lombardi Trophy, Gastonia's Wheelchair Super Bowl scored big in resident happiness and engagement. And that's a victory for everyone.
Emily Mongan is Staff Writer at McKnight's. Follow her @emmongan.