March 21, 2018
Seeds from all over U.S. spring up at Kentucky nursing home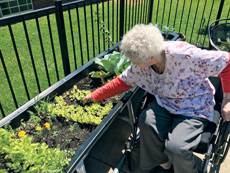 A Liberty resident checks up on greens growing last spring
About 15 residents of Liberty Care and Rehabilitation in rural Casey County, Kentucky, have been busy prepping their two-year-old garden since early February, lettuce leaves and broccoli stalks already emerging from the soil by the first day of spring.
This year, their raised beds can claim to have roots all over the country.
Chaplain Dominic Gordon helped expand the Signature HealthCare facility's garden last year and joined an online seed club to get ideas for this season. When she shared Liberty's story of making gardening accessible to all, fellow Facebook members started shipping heirloom seeds from across the U.S.
"Every other day for a month, we would get seeds in the mail," says Gordon. "Our residents love knowing people from the outside are trying to help them."
The gardening program started as a club but took on new life when the community pitched in to fund and build a trellis over a sidewalk leading to their patio. The trellis and its climbing plants can be reached by residents who use wheelchairs, as can several raised beds and planters.
Gardening is part of everyday life in their part of the country, Gordon says, and residents have told her putting shovels into the dirt is like having a little piece of home at Liberty with them.
Residents who don't want to get their hands dirty can still enjoy the garden's beauty during Bible study or ice cream socials on the patio. Marigolds are a natural weed deterrent, and they dot the veggie gardens.
Last summer, residents planted cucumbers, squash and tomatoes on the trellis, picking the fruits, prepping and cooking them as an organized activity.
Gordon said her efforts started after reflecting on Jeremiah 6:16, which says, "Stand at the crossroads and look; ask for the ancient paths, ask where the good way is, and walk in it, and you will."
At Liberty they can walk or roll along the path, see green growing above them and rejoice in the delicious bounty in just a few weeks' time.