November 21, 2017
Oh, the places they'll go: Provider gives residents the vacation of a lifetime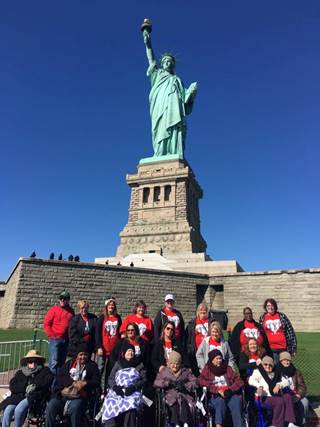 Signature residents and staff during their October trip to New York City.
For many residents living in Signature HealthCARE's Hometown facilities, vacations weren't a regular part of pre-long-term care life. There were farms and families to be taken care of, after all. But one resident's request in 2011 changed all of that.
The resident wanted to go to Disney World, which staff started thinking "seems like a cool idea," Angie McAllister, Director of Cultural Transformation-Hometown for Signature, told McKnight's. They asked the resident if it was alright if a few of his fellow residents came along on the trip.
"He was like, 'I don't care, as long as I get to go,'" McAllister said.
Six years later, Signature has taken more than 1,000 residents on 18 different "Elder Vacations," from relaxing at Panama City Beach (photo at lower left) and taking in the sights in Gatlinburg, TN, to trekking through urban settings in New York City, Boston and San Antonio.
The groups are typically made up of more staff than residents, McAllister noted, since the vacation-goers require one-on-one skilled nursing care even on the road. But the trips give the residents a rehabilitation goal, such as working to climb enough steps to get into a Disney World trolley.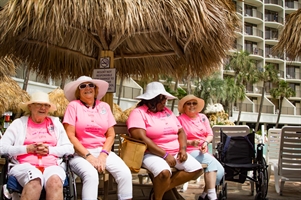 It's a big deal for residents who may not have ever flown in an airplane, or even left their rural hometowns. McAllister recalls one 90-year-old resident who sat on the balcony of her hotel room on their first night in Myrtle Beach, listening to the ocean for the first time.
"She had never been out of this little town in Tennessee in her whole life, and she had never stayed in a hotel," McAllister said. "She said, 'I can't even see because it's dark, but I can hear it. And I've never heard anything so beautiful.'"
McAllister said all of the work required for the trips is worth it, if it means shattering some preconceived notions about long-term care residents.
"It's an intent to change the views of how people perceive aging and how people perceive skilled nursing care, because the perception is not good," McAllister said. "How do we show people that our elders aren't just sitting around, waiting to die? They have the opportunity to experience something new and to grow."
Click here to read more about Signature Hometown's Elder Vacations.
Do you know of a brighter, lighter long-term care news item that is suitable for The Brighter Side? Email Staff Writer Emily Mongan at emily.mongan@mcknights.com.