April 04, 2018
Nursing and rehab center all hopped up over bunny's social media naming contest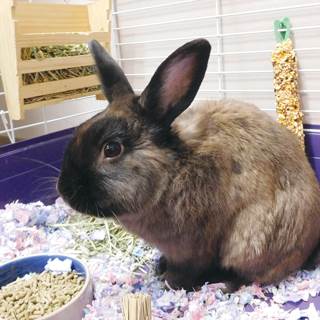 Gurwin's bunny needs a name, and you can help pick it
Just before Easter, residents at Gurwin Jewish Nursing & Rehabilitation Center adopted a furry new friend, a 2-year-old "rescue" bunny blessed with beautiful, floppy ears — but no name.
Now it's up to residents, family members and the rabbit-loving public to come up with a moniker via social media.
Going by Nelly for now, the brown bunny has joined a menagerie that already includes birds, fish and therapy dogs from the local Guide Dog Foundation.
"Animals provide a warm and comforting presence to our residents," said Dawn Lettau, CTRS, director of therapeutic recreation at Gurwin, a 460-bed facility in Commack, NY. "Research has shown pet therapy helps people with a wide range of medical conditions, including chronic pain, heart disease, depression and more. Our residents are already feeling the love."
Now, it's a question of feeling out the right name. Starting today, anyone can vote for the rabbit's new moniker on Gurwin's Facebook page. Click on the photo of the black-eared bunny to select from Cinnabun, Pepper, Babka, Mortimer (Morty), Nelly (Nelson), Patches or Furwin.
Gurwin rescued Nelly-for-now from The Groomery, a nearby dog-grooming shop that also dabbles in animal adoptions.
While many people think of dogs as pets therapy animals, in reality many different types of animals are used for therapy.
"Our residents enjoy regular visits with exotic animals from the local pet shop," Lettau said. "Our fish tank and bird aviary are popular areas within our facility for relaxation."