April 25, 2018
Eight months post-hurricane, 20 uprooted residents — and 5 staff members — finally celebrate return to rebuilt nursing home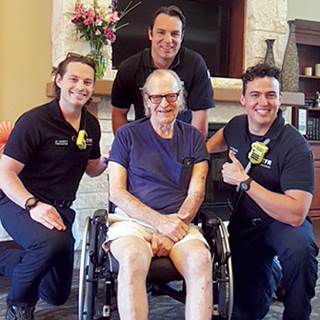 Rockport resident Edward Emery poses with members of the Lake Travis Fire Department, who helped dislocated residents move into Bee Cave during Hurricane Harvey.
As Hurricane Harvey bore down on the Gulf Coast last August, 90 long-term care residents from Rockport, TX, boarded charter buses and ambulances to make a trek to safety in the city of Bee Cave.
Little did they know it would become home to many of them for about the next 240 days.
Friday, the final 20 Rockport residents — accompanied by the employees who relocated along with them — celebrated their planned homecoming. It was a send-off filled with food, flowers, firefighters and a little country music to boot.
"It was bittersweet," Cory Hawkins, administrator at HMG Healthcare's Park Manor Bee Cave, told McKnight's. "Those residents really become our own. But they were excited to get back home. Many of their families are still there, some just a couple blocks away."
Fourteen assisted living residents had moved to a different facility the day after being evacuated, and another 53 relocated to other facilities to be closer to relatives after it was clear their original home at Gulf Pointe Plaza would be uninhabitable for months.
The original trip from Gulf Pointe was made smooth by a standing temporary housing agreement between the two facilities. Administrators decided to activate an emergency plan before a mandatory evacuation was ordered, and they procured extra supplies and equipment when residents were en route. Then, firefighters from Lake Travis worked late into the night offloading and settling residents into their temporary digs.
Those firefighters were recognized during Friday's party, along with six employees who had moved along with their patients to make Bee Cave their temporary home. The facility paid to board those workers and their families at nearby lakeside cabins. Some of them lost everything to the hurricane, too, Hawkins noted.
All of the residents and five staff members are expected to return to Gulf Pointe Plaza, which expects to open its doors by month's end after a $2.5 million renovation.
New residents and those returning from Bee Cave should bring occupancy up to 60% initially. An official with HMG Healthcare said the company is aiming for 85% to 90% occupancy within 90 days.
Though much of the last year has been tumultuous for Gulf Pointe, Hawkins says its residents were quietly embraced by their adopting community.
Volunteers helped lead additional activities to keep residents occupied in the first few days, when some of them slept on cots in a quickly converted therapy room. Residents from Bee Cave and surrounding areas also donated toiletries, clothing and other needed items since the displaced residents could only bring along three days' worth of clothes.
Hawkins praised the nurses who, facing their own personal loss, provided an invaluable service to him and to their charges. One relocated staff member decided to stay on permanently.
"It worked out so well here," Hawkins said. "We were one of the lucky ones. You have to have a great place and great people to make that happen."