December 20, 2017
Blooming success: 1,000 poinsettias donated to nursing home residents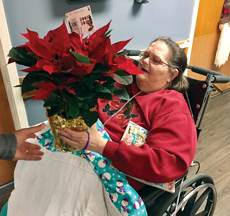 Woof Boom Radio employee Kevin Swain presents an Indiana nursing home resident with a poinsettia.
Volunteers from a local radio station group in Indiana delivered 1,000 poinsettias to help brighten the lives of nursing home residents this holiday season.
During a two-day stretch, employees from Muncie-based Woof Boom radio gave bright red plants to residents at about two dozen senior living facilities in Muncie, nearby Anderson and rural towns in between.
What started as an attempt to get flowers to every resident who might not have visitors at Christmas grew into a massive undertaking, said Liz Valpatic, administrative assistant and marketing coordinator. An upbeat video reveals how the deliveries panned out.
"It turned into this touching as many residents as we could," Valpatic said. Additional sponsors allowed the radio group to gift flowers to every resident of at least one small community.
Businesses helped cover the cost and had their logos printed on a greeting card tucked into each poinsettia.
The Woof Boom employees, accompanied by volunteers from the local YMCA, spent time talking with as many recipients as possible, looking at their crafts or, in one case, listening to a resident play guitar. In cases of patients with dementia or those not up to receiving guests, CNAs or others were asked to deliver the flowers later.
Valpatic and executive assistant Megan Orbin arranged the deliver. Both said they will work with nursing homes to repeat the program next year. Valpatic said her video of the experience opened her eyes to the friendships and quality of life possible in long-term care.