August 04, 2015
Workrite Ergonomics adds Lumo Bodytech's Lift product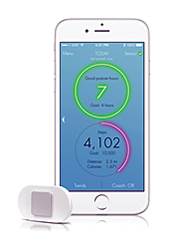 LumoLift app
Workrite Ergonomics has added Lumo Bodytech's Lift to its ergonomic products and solutions for the workplace.
Lumo Lift offers posture coaching and activity tracking, and encourages the wearer to stay active by tracking steps, distance traveled and calories burned. It can be paired with iOS devices, select Android devices and Windows PCs.
The Lift is the first connected wearable device addressing poor posture, said Charles Lawrence, president of Workrite Ergonomics.
"The foundation of good ergonomics is proper posture so Lift just naturally fits with what we do — helping people be healthier and more productive in the workplace," he said.
Lumo Bodytech found that during an average workday people typically spend only 36% of their time in good posture, according to a study of user data. This translates to as much as 38 minutes of slouching per hour.