January 24, 2018
Virtual reality company announces partnership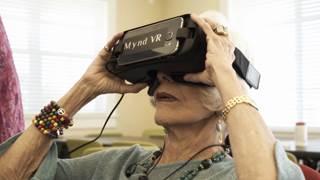 Virtual reality company announces partnership
MyndVR, which provides virtual reality solutions for senior living communities, and Littlstar, a content network, have announced an exclusive partnership.
MyndVR powered by Littlstar will allow seniors to see content from DiscoveryVR, National Geographic, USA Today Network and the Wall Street Journal.
"Through this partnership, we have access to amazing and highly relevant VR experiences in the Littlstar app, which allows us to ensure that seniors can easily participate in these experiences through a seamless streaming platform," said Chris Brickler, co-founder and CEO of MyndVR. "We recently completed a large-scale national pilot with several hundred people in senior living communities, including those living independently and those with Alzheimer's disease, Parkinson's and other age-related conditions. We witnessed firsthand what content works specifically for seniors, and we understand that the aging mind wants to continue to learn, create and explore."
MyndVR also is developing interactive cognitive exercises, the company said.