October 19, 2016
Update to tablet counter devices released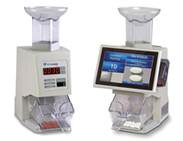 Kirby KL1 KLPlus
Kirby Lester, a division of Capsa Solutions LLC, said it has released an update to its tablet counter devices, KL1 and KL1Plus, for retail, hospital outpatient and LTC pharmacies.
The updates include 15 new software inclusions, such as a large touch-screen, three levels of user tracking, a redesigned funnel and tray and interoperability with a pharmacy's onsite robotic automation.
The updated features allow users greater prescription accuracy and scrutiny, the company said.
The KL1 and KL1 Plus pharmacy automation devices were displayed at the National Community Pharmacists Association 2016 Annual Convention in New Orleans this week.
Kirby Lester is headquartered in Lake Forest, IL. Capsa Solutions has headquarters in Portland, OR, and facilities in Columbus, OH; Huntersville, NC; and Chicago.