June 06, 2017
Universal cell phone and tablet mounts added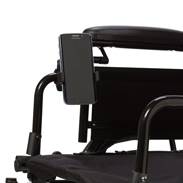 Drive CellPhone Tablet Mount Release
Drive DeVilbiss Healthcare has introduced a Universal Cell Phone and Tablet Mounts to its Power Mobility Accessory line.
A user can dock a cell phone or tablet to most scooters, power chairs and home medical equipment with tubing up to 1.1 inches in diameter. The swivel and rotating base allows a device to be put in different angles, the company said.
The mounters are cushioned with rubber padding.
The tablet mount (AB2400) is capable of holding tablets from 7"‐ 11" wide, and the cell phone mount (AB2300) is capable of holding phones that are up to 3.7" wide, Drive said.