February 25, 2014
UniMac releases new dryer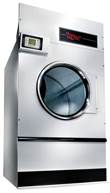 UniMac releases new dryer
UniMac® has introduced UT200, a 200-pound tumble dryer.
The dryer has an extra-large capacity, and includes sealed cylinder rims and a concentrated airflow pattern. UniMac also offers its Combustion Auto Response Equipped (CARE) system as an added option for the UT200, which monitors excessive cylinder temperatures and sprays water on the load should it register an abnormally high reading. A signal can be sent to an alarm system or laptop.
Other options include OPTidry™ over-dry prevention technology, which can monitor the level of linen dryness. With OPTidry, linens experience 31 percent less fiber loss compared to fabrics dried without the technology, which allows laundry managers to spend less money on linen replacement, the company said.
"The UT200 is just one example of UniMac's commitment to increasing our customers' satisfaction by offering a comprehensive range of equipment with innovative features that help on-premises laundries operate more cost-effectively," said Bill Brooks, North American Sales Manager for UniMac. "The 200-pound tumble dryer will allow operators to improve throughput and increase savings, ensuring the lowest cost of ownership."