November 25, 2014
Trident Case debuts first Charging Cart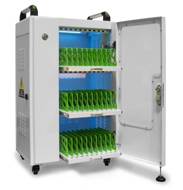 Trident Case debuts first Charging Cart

Trident Case® introduced the company's first ever Charging Cart this fall. The cart disinfects and sanitizes mobile devices as they charge.

"In environments where multiple tablets are used each day, a reliable source of power is a necessity," Vice President of Marketing Vickie Achee said.

Trident's Charging Cart holds up to 30 tablets at once thanks to multiple built-in charge ports and pullout trays. A red LED light indicates that the devices are charging, and a green LED light indicates that the devices are fully charged. The cart is also equipped with an acrylic frosted window to see the devices and LED light indicators. The cart can fully charge all tablets in four to six hours.

The cart has lockable wheels and built-in handles.

A UV light inside the Charging Cart disinfects both the devices and the cases while charging. "This function is particularly important in environments where germs are prevalent, such as schools or hospitals," Achee said.

The cart is compatible with the Apple® iPad® 2,3,4; iPad Mini; iPad Mini 2; and iPad Air cases.