August 15, 2017
Treatment for plantar fasciitis gains traction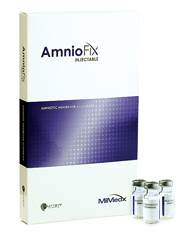 AminoFix
Mimedx has announced its AmnioFix® injection for treatment of plantar fasciitis, a cause of heel pain, demonstrates had highly significant positive results in a Phase 2B study. Plantar fasciitis is the most common cause of heel pain.
AmnioFix® involves micronized amniotic tissue that can reduce scar tissue formation and increase healing, the company said. Most treatments for plantar fasciitis include six weeks of daily icing, stretching, night splints and activity.
The Phase 3 trial was approved for a follow-up duration of six months, down from 12 months.