September 18, 2013
Thyroid diagnostic reader for smartphones debuts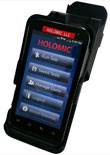 Thyroid diagnostic reader for smartphones debuts
ThyroMetrix USA, a clinical thyroid testing company, has partnered with Holomic LLC to create the Holomic Rapid Diagnostic Reader for smartphones, the companies announced.
The HRDR-200 works together with ThyroTest ™, a thyroid test developed to diagnose by using a drop of blood on a small test card. The card is then inserted into the HRDR-200, which is attached to the camera unit on a smartphone. Captured images are processed and reveal test results immediately.
The combination should let healthcare professionals immediately diagnose and start treatment of thyroid disorders, the company said. Holomic, LLC is a finalist in the Nokia Sensing XCHALLENGE. ThyroMetrix was formed in 2006 to bring to the market products that can measure thyroid health.