July 12, 2017
Thermocompressor released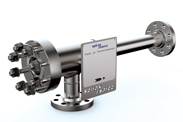 Steam Jet Thermocompressors
Spirax Sarco has released its Steam Jet Thermocompressor. The device compress low-pressure steam to a normal pressure.
The thermocompressor has no moving or rotating parts, and it is only made of three fundamental pieces, which includes a motive steam nozzle, a suction body and a diffuser. The simple design makes it easy to install and ensures minimal maintenance.
The product is available in stainless steel, carbon steel, titanium, chrome and molybdenum.
Spirax Sarco produces steam management systems. It is based in Blythewood, SC.