May 09, 2018
The next big thing in nurse communication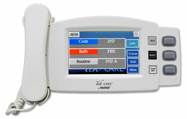 Tek-CARE160
TekTone hopes to make nurse communication easier and more affordable with one of its latest products.
The Franklin, NC-based company is doing so with the rollout of its Tek-CARE 160, a two-way communication nurse call system that it says is easy to install, use and maintain.
Features of the device include customizable peripheral devices, touchscreen master stations and high-quality, two-way communication between residents' rooms and the nurses' station. Staff can easily assess their residents' needs, the company says, without leaving their station, allowing them to save precious time and more easily tend to residents' needs. For more on the product, you can check out this brochure.