July 28, 2015
TCGRx releases new tablet packaging system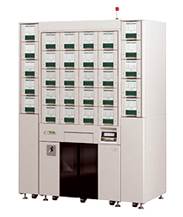 TCGR/ATP2
TCGRx has released the ATP 2, a new automated tablet packaging system.
The system uses "customer-friendly adherence packages" called AdherePac™. The package can be printed with color indicators to signify the proper pass times, images of pills and reminders for non-oral solids such as inhalers.Customers can now operate with limitless canister automation, run half-tablets through the machine, or run continuously without stops for refilling trays.
The ATP 2 integrates with TCGRx automated imaging and verification system the InspectRx™. This product looks at quality of packaging.
"TCGRx has built custom solutions to scale this process to handle more than 20,000 scripts per day," a company statement said.