September 01, 2015
Symtech Solutions releases Acuity Rapid Response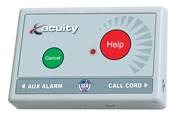 Symtech Solutions Acuity Nurse Call
Symtech Solutions has added Acuity Rapid Response, an emergency response system that is tested and UL 1069-R7 approved.
The UL 1069-R7 requirements "cover the individual units employed to form a hospital nurse call system intended to provide audible and visual communication between patients and hospital personnel," the company said.
The wireless standard of 1069-R7 covers both acute care and long-term care facilities, the company said.
Symtech's customers include nursing homes, assisted living facilities, regional medical centers and hospitals in eastern Pennsylvania, Maryland, Delaware, New Jersey, the District of Columbia and northern Virginia.