May 10, 2016
Standalone scales released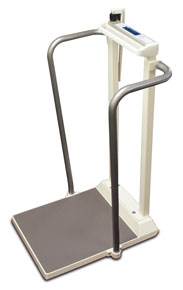 SR585i
SR Instruments has added a new stand-on scale, the SR585i, to its SR Scales product line.
Features include a wide grip, wrap-around handrails and a 1,000-pound capacity. The U.S.-made scale includes a digital display with optional EMR/EHR data sent via serial connector.
"This new scale provides an attractive weighing solution for long-term care facilities and other healthcare centers that need a sturdy platform for obtaining accurate weight data," said Mark Schulz, OEM product design manager at SR Instruments. "The SR585i is easy for staff and patients to use, while providing greater true-cost ROI with our long-lasting products."