April 11, 2017
Software added for dental visual case presentation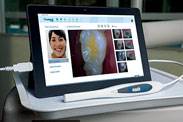 MouthWatch ExamTab
MouthWatch, which sells intraoral cameras for dental work, has released ExamTab designed for Android.
"Part of our vision at MouthWatch is to provide flexible, adaptable solutions to dental professionals," says Brant Herman, CEO of MouthWatch. "So, instead of saying that you can only get the benefits of ExamTab software on our PC-based tablets, we decided to release a version that can be run on any modern Android tablet—or even current Android phones. Now, if you have a tablet already available, you can simply download the app and be up and running."
ExamTab allows live video and image capture to be run from a tablet. This allows patients to see work in their own hands. Intraoral images make it easier for dentists to show patients areas of concern, or to highlight areas to review by colleagues. It can run on compatible Android tablets and phones on Android versions 4.4 and later.