April 17, 2018
Society rolls out new educational goodies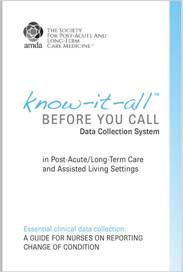 Know-It-All data collection cards
The Society for Post-Acute and Long-Term Care Medicine just rolled out a slew of new educational tools for pros in the field.
Those include the group's new "Know-It-All Before You Call" data collection system, which is a series of cards that help nursing staff evaluate patients and collect data. The cards let nurses gather "more complete, clinically important information" about residents. The cards are available both in hard or electronic copies, and range in price from $44 to $70.
AMDA, as the society is called for short, has also released a set of pocket guides that help clinicians treating patients with heart failure, pressure ulcers, pain management, diabetes COPD and other conditions. In addition, the society also released a new guide to aid in discussing advance care decisions with patients.