October 24, 2017
Social network platform gains popularity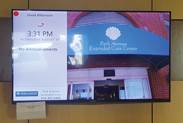 Life.Vu
Life.VU, which has developed a social network platform where residents share life experiences with loved ones, has been installed in facilities on the East Coast and in the Midwest. These include Menora Financial Corporation, Olympia Group and Sentosa Care.
The platform uses in-room televisions that lets text and photo content appear on screen via computers or mobile devices through the Life.VU app. The company, based in Israel, also includes a general kiosk for lobbies, receptions areas and dining rooms for announcements.
Administration activity and programming can be managed from mobile devices.
"In addition to messages from a resident's friends and family, Life.VU's functionality includes an administration utility that enables the on-site facility manager to broadcast time-sensitive updates directly to the residents," said Elazar Cohen, CEO of Life.VU. "The goal is to further facilitate resident activity/engagement and significantly increase and enhance social interaction."