March 14, 2017
Smoke detector debuts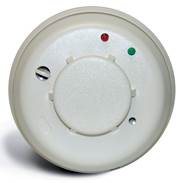 EN1244 wireless smoke detector.
Inovonics has released its EN1244 wireless smoke detector.
"This product makes up for some lost ground with our current smoke offering," said Don Commare, the vice president of marketing. He said the UL268 listing provides an approved integration path to UL985 (Standard for Household Fire Warning System Units) panels.
The EN1244 has separate SKUs for the United States, Australia and New Zealand and is available with a 60-minute check-in. The smoke detector features an onboard sounder, an LED indicator, tamper and local test.