May 02, 2018
Smart dresser helps dementia patients stay independent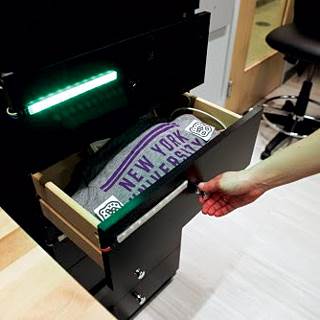 "Smart" Dresser Prototype Guides People with Dementia in Getting Dressed
Getting dressed can be a daily struggle for residents suffering from dementia. But a new product prototype aims to ease worries and bolster independence for such individuals.
Researchers with the NYU Rory Meyers College of Nursing, among other institutions, recently developed a new "smart dresser" It allows patients with dementia and other cognitive disorders to clothe themselves, without the help of a caretaker.
The "DRESS," as it's called, does so by using automated tracking and recognition of a resident's motions, with remote guided assistance. Sensors in the dresser track progress during the dressing process, with barcodes on garments to identify their type, location and orientation, according to a press release. Each five-drawer dresser is organized with one piece of clothing in each compartment, and a bracelet helps monitor the individual's stress levels.
Caregivers, meanwhile, can monitor the process from a smartphone app. A pre-recorded prompt in that caregiver's voice tells the person to open the top drawer first, which is also lit up. If an item goes on correctly, the dresser moves to the next step, while a misstep is greeted with an audio correction and encouragement.
An early study showed some promise with the system, and researchers plan to make adjustments, including upping the size of barcodes, and better positioning residents who are using the dresser.
"Our goal is to provide assistance for people with dementia to help them age in place more gracefully, while ideally giving the caregiver a break as the person dresses." Winslow Burleson, an associate professor at NYU Rory Meyers College of Nursing and the study's lead author, said in the release.