March 27, 2018
Slim toilet seat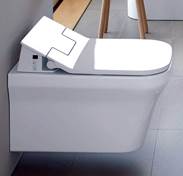 SensoWash Slim
Duravit has announced the availability of its SensoWash Slim shower-toilet seat.
The seat, which it says is ideal for public and semi-public areas, offers a "traditional, yet elegant" appearance. It has an accompanying slim remote with a wall holder, with multiple wash settings, and the lid opens and closes automatically.
The slim seat can also be removed to allow for easy and efficient cleaning.