December 20, 2017
Skin closure system debuts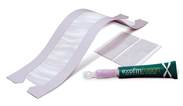 Exofin Fusion
Chemence Medical Inc. announced it has received Food and Drug Administration clearance to market and sell Exofin Fusion®, a new skin closure system for medium to large wounds.
The product has a flexible mesh strip, mesh anchors and a fast-curing 2-octyl cyanoacrylate topical adhesive.
While the skin closure system is meant to be geared toward surgeons, its waterproof microbial barrier reduces infection risk after surgery, the company said.
Exofin Fusion is available in two sizes. Among its potential uses are recommendations for hip and knee replacements and cardiovascular procedures.
"Exofin Fusion brings the features doctors and patients love about topical wound closure adhesives to a whole new array of procedures," said Roberson. "Chemence Medical is excited to introduce the next step in topical skin adhesives."
Chemence has headquarters in Atlanta.