June 12, 2018
Shoes equipped with GPS tracking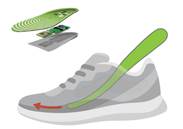 GPS-Smartsole
Vigil Health Solutions has announced the availability of new shoes designed to help residents from becoming lost.
The GPS SmartSole, made in partnership with the GTX Corp., provide an "easy to use" two-way GPS tracking device in its sole. It harnesses cellphone networks, sending notifications back to users, and is ideal for skilled care residents who can go outdoors, but are at risk of getting lost or disoriented.
Making use of the Vigil Integrated Care Management System, the tracking devices are carefully hidden to help reduce stigma and preserve dignity, and most wearers do not notice their presence in the shoe, according to the company, which is based in Victoria, British Columbia.