November 03, 2015
Sherwin-Williams launches microbicidal paint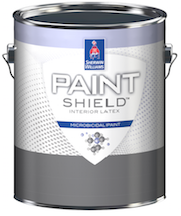 Sherwin-Williams launches microbicidal paint
Sherwin-Williams has debuted Paint Shield™, a microbicidal paint that continuously kills difficult-to-treat, infection-causing bacteria after exposure on painted surfaces.
Paint Shield can kill staph, MRSA, e. coli, VRE and other microbes within two hours of exposure, the company announced. It is the first EPA-registered microbicidal paint.
The patented technology in Paint Shield represents research and collaboration with scientists and expert microbiologists.
It can be applied on interior hard, non-porous ceilings, walls, doors and trim. It is being marketing toward healthcare facilities, senior care communities and residential housing.