February 14, 2018
Sharps crate, syringes introduced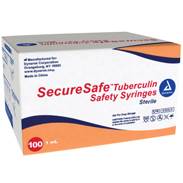 Dynarex/Secure Safe syringes
Dynarex has debuted four new products geared toward safety.
The SecureSafe™ Safety Syringes have an enhanced safety mechanism and include insulin safety syringes and allergy safety syringe trays. The Sharps Crate has a horizontal drop design and are meant to reduce shipping costs. The new 0.5 quart transportable Sharps Crate is safe and practical, the company said.
Dynarex also introduced the Xeroburn Sterile Burn Dressing for all burn injuries and the DynaLift Transport Unit. The DynaLift holds up to 1,500 pounds, featuring six handles per side and one on either end.