April 12, 2016
Sensor on dispensers can analyze data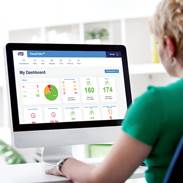 SCA Tork Washroom EasyCube Facilities
The Tork EasyCube™ is sensor-enabled so product dispensers can gather and analyze data from restrooms or wash stations, making them a good fit for healthcare facilities, the company said.
The data also can alert maintenance that areas have enough hand soap, sanitizer or paper towels. Staff can find out how much product needs to go into bathrooms, eliminating the need for multiple trips.
Users looking at the data can define cleaning routes in a way that is site-specific, and administrators can send specific assignments to an attendant as needed.