December 15, 2015
Sennheiser releases headset devised for patient confidentiality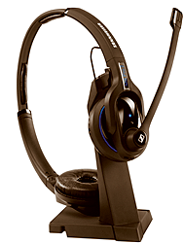 Sennheiser Headphones
Headset and audio company Sennheiser has created noise cancellation headsets geared towards those who need data confidentiality, such as in a healthcare environment.
Customer information should not be overheard as background conversation, which can be a consequence of a low-end headset, the company said. Sub-par audio quality also can lead to asking personal information to be repeated.
"Many of us have also been forced to reiterate sensitive information in a public setting because an agent can't understand our responses," said Bill Whearty, vice president, sales and marketing, CC&O, Americas, Sennheiser Electronic Corp. "This is the mark of a poor quality headset, and it's unacceptable in an environment where the end-user's information needs to be protected, by law or otherwise. We are now looking to target dealers and end-users in these markets, to raise awareness of how noise cancellation and audio clarity can help them better adhere to privacy standards."
Sennheiser, based in Germany, has a portfolio of award-winning headsets, the company said.
"Superior noise cancellation, transmission quality and voice intelligibility are not luxuries in these sensitive verticals, they are an intrinsic component to keeping the end-customer's data private and secure," Whearty said.