May 26, 2015
SEMCO introduces cooling hybrid system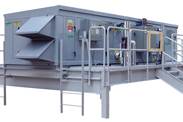 Semco Ascendant
SEMCO, a company focused on energy-efficient HVAC equipment, has introduced the ASCENDANT Series, a cooling and dehumidification hybrid system.
It is available in five models, and considered ideal for dry storage or other areas that need low dew point temperatures and air humidity.
It can work as a partial or dedicated outdoor air system, the company said.
It does not need exhaust energy recovery, which can make it ideal for hospital operating rooms or other areas where exhaust air is unavailable. It is up to 75% more efficient than conventional DX dehumidifiers using compressors alone, SEMCO noted.