May 22, 2013
SecuraTrac announces health app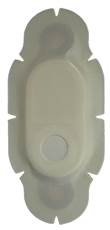 SecuraTrac announces health app
Mobile health provider SecuraTrac announced new technology based off of its SecuraFone®. Developed with Vital Connect, SecuraFone Health can tell physicians, caregivers and family in real-time when an unexpected health event occurs. These include heart rate or respiration rate changes.
It also can detect falls. When something unexpected is discovered, the app sends a real-time alert that includes information about the user's location.
The user wears a sensor on his or her chest or back to monitor vitals. Patches are water-resistant and can be worn for two to three days.
The SecuraFone Health app is scheduled for release later this year.