May 03, 2016
ScreenRight launched as software product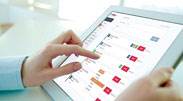 ScreenRight/Functional Pathways Tablet
Functional Pathways has rolled out its second set of proprietary software, ScreenRight™ to current clients.
It was designed for long-term care residents, corresponding with MDS initial and quarterly assessments, the company said. It uses data tracking technology to objectively assist therapists in identifying functional decline. ScreenRight also provides quality assurance and helps managers identify therapy staff that may need additional skills.
Functional Pathways is a therapy provider based out of Knoxville, TN.