September 22, 2015
Sconces for nurse call lights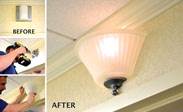 Nurse Call Light Lenses
HomeLike Solutions is offering a series of nurse call light lenses designed to make facility hallways look less institutional.
"The sconce lenses can be installed in conjunction with new nurse call systems, and they can be designed to be retrofitted over older systems to give a home-like feel," said HomeLike cofounder Kevin-Bergmann.
The company says its products enable long-term care facilities to increase resident morale and quality of life.
The lenses are "easily retrofitted and can be installed by your maintenance team," the company said. The full range of styles can be found by clicking here.