October 20, 2015
SCA launches Tork Health Hands website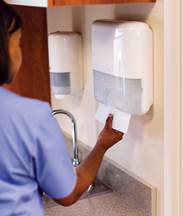 Tork
SCA has released a survey stating 93% of healthcare facility patients and visitors believe hand hygiene is more important in healthcare than in other settings. Close to three-quarters are concerned about acquiring a healthcare associated infection (HAI).
The survey was done in conjunction with the launch with the Tork Healthy Hands website. It "features a variety of hand hygiene insights, statistics and reminders, as well as a selection of visual designs," Tork said.
The site will be regularly refreshed with new designs and information, including signage on hand hygiene for long-term care facilities.
The survey was conducted by Ipsos Public Affairs on commission by SCA from April 3-6, 2015. It included more than 1,000 respondents.