November 22, 2016
SaaS telephone call product released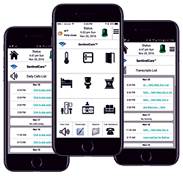 Sentinel CALL
Concordia Systems Inc. has introduced SentinelCALL™, which provides telephone calls to stay in contact with individuals with long-term chronic conditions, seniors and individuals returning home from hospital and rehabilitation facilities.
Healthcare providers, insurers or family members can use it to send a 90-second daily phone call that includes gentle reminders to take medication, and report back that medications have or have not been taken. The phone calls also include asking if the respondent needs anything or if he or she wants a nurse or doctor to call.
While home health providers may use the service, it's also being pushed to continuing care retirement communities as a way to keep in touch with residents on a daily basis. Advanced reporting and analysis tools, including voice analytics are expected during the first part of 2017, according to the Baltimore-based company.