March 13, 2018
Remote-patient monitoring, emergency response wrapped into one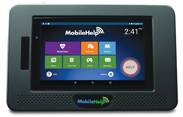 MobileHelp Touch
Two tech providers have collaborated to create a remote-patient monitoring and emergency response platform in one simple product.
Called the "MobileHelp Touch," the device uses a Samsung tablet and tech from MobileHelp Healthcare. With it, patients get the benefits of a traditional emergency response system, along with remote-patient monitoring and video conferencing.
Providers, with the tech, are able to monitor the patient through the entire episode of care, from doctor's office to skilled nursing facility, and everywhere in between. Patients can keep the tablet and equipment following the episode of care, too, if they want to keep monitoring their vital signs and better engage in their own long-term care. In a pilot study with one provider, MobileHelp found that 47% of patients monitoring their vital signs reported an increase in confidence managing their disease.
"We know better management of patients with chronic conditions reduces readmissions for ACOs and results in better outcomes for patients," said Chris Otto, senior vice president of MobileHelp Healthcare. "MobileHelp Touch takes that to the next level by combining RPM and emergency response services in a single platform."