April 26, 2017
Rehabilitation equipment added to therapy suite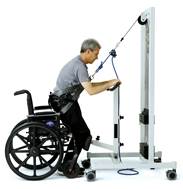 Sit to Stand NeuroGym
Medline has expanded its therapy and rehabilitation portfolio to include the NeuroGym line.
The NeuroGym products make it possible to work with patients who traditionally fell outside the therapy spectrum, the company said.
"The NeuroGym products can be a true differentiator for facilities as the equipment is specifically designed to increase productivity. This means therapists can not only get patients moving in a safe environment but sustain that progress to ultimately improve their quality of life," said Brian Garner, director of sales for the therapy and rehab division at Medline.
Cadia Healthcare in Delaware has five locations using NeuroGym and said it helps patients relearn skills such as turning around without losing balance.
"By using a device called the Sit-to-Stand Trainer, we've started to notice something truly amazing — it's becoming easier and quicker for staff to now transfer patients to the toilet when they need to go because the device enables people to actively initiate the motion of standing up," said Suzanne Reid, director of rehabilitation services at Cadia.
In addition to the Sit-to-Stand Trainer, the portfolio includes the Bungee Mobility Trainer, which helps patients relearn how to walk.