June 17, 2014
Regen Synergistics introduces BodyRepairRX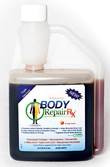 Regen Synergistics introduces BodyRepairRX
Regen Synergistics has introduced the "Body RepairRX" nutritional supplement, designed to promote health and wellness.
Body RepairRX was developed from the medical applications of Regen's sister company, The Hymed Group Corporation. Body RepairRX is an "innovative and proprietary patented liquid that emphasizes its four major ingredients, hyaluronic acid, collagen, polysulfated chondroitin sulfate, and glucosamine hydrochloride that have been shown to be synergistic to cell development, repair and healing," the company said. Athletes, those with low energy or those with "general aches and pains" can use it.
Body Repair RX meets all cGMP requirements of the FDA, the company noted.