February 03, 2015
Rally Health launches platform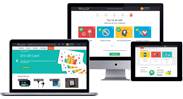 Rally Health launches platform
Rally Health is launching a product that lets consumers look at their personal health data, leverage incentives and receive coaching.
Backed by Optum, a division of UnitedHealth Group, Rally Health "brings a new approach to consumer-based healthcare by combining expertise from consumer technology companies and top healthcare companies," the company said.
The company is a primary provider of digital wellness solutions for UnitedHealth Group.
"Wellness is only a starting point when it comes to the potential impact of digital health," said David Ko, president and COO of Rally Health.